Lesbians and bisexual women in cinema may seem like a existence of the unicorn but alas, we've put together the best list of tv shows and movies you should have already been watching.
1. Glee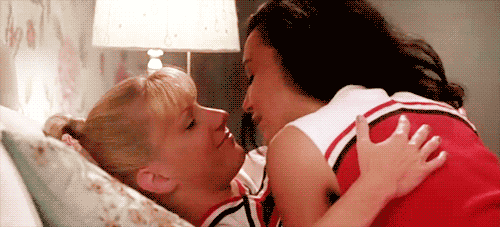 Because you get to watch Santana and Brittany parade around in cheerleading outfits, dance and sing, and make out.
2. Feminin/Feminin Because this scripted web series based in Montreal means all the characters are speaking in French. Ya, French.
3. The L Word
Because it's the campiest Showtime show that's ever been created, and is the pinnacle of lesbians on TV.
4. The Real L Word
Because the hilarious sex scenes from the L Word can be replaced with real, very hot sex scenes.
5. But I'm A Cheerleader
Because it's a cult classic that not only lets Natasha Lyone shine, but also enlists some pretty hilarious cinematic choices.
6. Imagine Me and You
Because it's cheesy and romantic and Lena Headey's in it.
7. Season 2 of America's Next Top Model (with Kim Stolz)
Because you get to watch Kim interact with Tyra and Mr. and Mrs. Jay.
8. D.E.B.S
Because it's hilarious and terrible and you need it in your life.
9. Skins
Because watching Naomi and Emily's highschool love blossom is nostalgic and magical.
10. Lip Service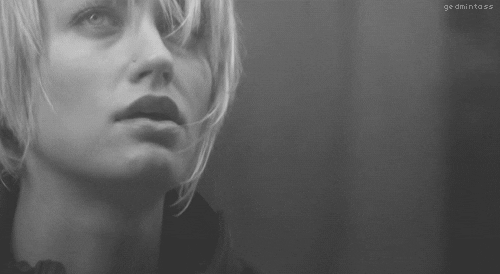 Because despite the fact that they cancelled this show FAR too soon, Frankie is everything (and maybe even better than Shane).
11. Orphan Black
Because hot lesbian scientists. Enough said.
12. The Fosters
Because this is an ABC Family show with two awesome lesbian moms.
13. Orange Is The New Black
Because you've probably already watched it, but you need to watch it again.
14. The Hours
Because Virginia Woolf.
15. Lost and Delirious
Because it's a same-sex love story set at a boarding school. Need we say more?
16. Kissing Jessica Stein
Because the agonizing nature of watching a straight woman dip her toes in the lesbian world is made entertaining by early 00s fashion, makeup and references.
17. The Kids Are All Right
Because this is one of the best lesbians indies and it feels so real that it's absolutely worth your time.
18. Real World Hawaii and Chicago
Because who could forget Ruthie's struggles and Aneesa's rudeness?
19. Lost Girl
Because sci-fi shows that feature a woman who stays alive by having sex is all a lesbian needs to hear to feel compelled to watch.
Enjoy not leaving your bed for a few weeks.