Music
10 Best Albums of 2022 (by LGBTQ+ Artists)
10 Best Albums of 2022 (by LGBTQ+ Artists)
Omar Apollo, Kehlani, MUNA... what's your favorite album of the year?
cornbreadsays
December 28 2022 1:37 PM EST
December 28 2022 1:37 PM EST
2022 has been an incredible year for music – especially for our favorite LGBTQ+ artists!
It's nearly impossible to choose between our favorite pop culture moments of the year. How can you decide between Stevey Lacy's viral #1 hit song or Demi Lovato's return to form? MUNA's queer joy or Ethel Cain's inner turmoil? Omar Apollo's Grammy nomination or Fletcher's sapphic whirlwind?
We tried anyway. Here are our favorite albums of the year, ranked.
Since this list is exclusively for LGBTQ+ artists, we left out some of the gayest albums of the year (we're looking at you Charli XCX and Beyoncé). And there are hundreds more musicians that deserve your love and attention! Be sure to check out our Spotify playlist that showcases so much more music from so many more LGBTQ+ artists.
10. Gemini Rights - Steve Lacy
The bisexual singer-songwriter scored his first Billboard Hot 100 #1 of his career with the viral hit song "Bad Habit" but the accompanying record is one of the vibiest of 2022. The alt-R&B album explores love and heartbreak with honesty and humor. "Looking for a girl because I'm over boys," he sings in the opening track "Static". It's breezy, fun, and an absolutely gorgeous symphony of sounds that makes for easy listening. It also earned him three Grammy nominations.
9. Asha's Awakening - Raveena
Before Asha's Awakening, Raveena played in the sandbox of indie R&B, her angelic voice gliding over tender guitar strums. Now, she's spread her wings to play with pop and Caribbean sounds, Bollywood and hip-hop fusions and more, which culiminates into a gentle explosion of ear candy. Don't think she abandoned the singer-songwriter vibes though, as "Love Overgrown" and "Endless Summer" are two of the album's most devastating tracks. The album ends with a thirteen-minute meditation to peacefully bring you back down to earth.
8. blue water road - Kehlani
Kehlani doesn't miss. The R&B darling's third studio album glistens like the sunrise on the ocean. blue water road is memorial, a tender reflection on love lost and gained. It also boasts some killer features including Justin Bieber, Jessie Reyez, Syd, Thundercat, and more.
7. Girl Of My Dreams - Fletcher
Fletcher was the name on every queer woman's lips this year. There's no burying the lead with this brutally honest pop star, she sings about sapphic chaos in the euphoric way. No topic is off the table: lust, hooks ups, cheating, avoiding your ex in a bar, spiraling, putting yourself back together, and every feeling in between. Let's all play "Healing" on repeat and manifest a less messy 2023!
6. worm food - Cavetown
Let Cavetown's new album devour you. The darkly satisfying bedroom pop record from the transgender musician explores depression, insecurities, self-worth, and more of his darkest thoughts. It's a beautifully tragic record that intimately explores identity in a way that many LGBTQ+ people can relate to, especially when it comes to forgiving your younger self for your past mistakes.
5. HOLY FVCK - Demi Lovato
After years of losing herself in the pop music machine, Demi Lovato has returned to pop-punk music for her best body of work yet. They spill all the tea on HOLY FVCK, writing candidly about her overdose and bucking off the pressures of public perception, something they've always been overly concerned with. Those sentiments are perfectly illustrated in "FREAK" and "EAT ME". Her most streamed song on the album, "29", calls out the age difference between her relationship with Wilmer Valderrama, who she dated when she was 17 and he was 29, and has become an anthem of sorts. Finally, Lovato feels free.
4. Broken Hearts Club - Syd
Lush, gorgeous, heartachingly beautiful. Syd quietly illustrates the feelings of falling in then out of love on the best R&B album of the year, Broken Hearts Club. The first half of the record is all about romance. In "CYBAH", Syd asks a partner to soothe her fears of romance. She teams up with Kehlani at the midway point "Out Loud" where she begins to question if her partner loves her enough to declare their relationship. It concludes with "Goodbye My Love" and "Missing Out", heartbreaking send-offs to a love that's no longer.
3. Ivory - Omar Apollo
Omar Apollo has had quite the year. The Mexican American R&B star released his debut studio album, went viral on TikTok, landed his first Billboard Top 100 song, and earned a Grammy nomination for Best New Artist. Ivory bounces between genre and language for a unique listening experience. "Evergreen" is his song that went viral, detailing the pain of a break up, but the album boasts songs just as beautiful, if not more. "Killing Me" best captures Apollo's energy as a lusty love song cataloging the fear of falling for a boy, and he sings it in both English and Spanish.
2. Preacher's Daughter - Ethel Cain
Sadgirls, rise up! Ethel Cain is one of the most exciting new artists of 2022. In the vein of Phoebe Bridgers and Lana Del Rey, the trans singer-songwriter entered the zeitgeist with sheer talent – and with the help of TikTok. Her debut album Preacher's Daughter is a catchy yet forthright indie-pop exploration of intergenerational trauma. "American Teenager" has become an anthem for a generation's frustration with the supposed American dream. Even former President Barack Obama enjoyed it, listing it as one of his top songs of 2022.
1. MUNA - MUNA
MUNA is queer joy, sadness, and everything in between. Our album of the year, MUNA has outdone themselves with their self-titled record. "Silk Chiffon" featuring Phoebe Bridgers is a sapphic explosion of love and elation that's become a modern-day LGBTQ+ anthem, but that's not the only one on this album. "What I Want" is a club banger that perfectly describes that very LGBT desire to do, well, whatever you want, especially in your 20s and 30s, detailing the build-up of our collective delayed adolescence. The rest of the album is a sometimes flirty sometimes brutally honest sermon on leaving lovers who aren't serving you behind, working on yourself, and how to live with your sadness like a "Loose Garment". Don't sleep on MUNA.
Stream the Spotify playlist below: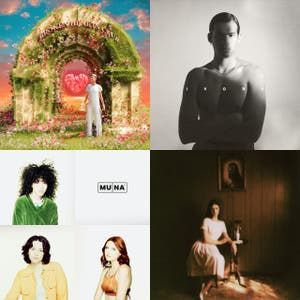 the alphabet mafia
Make sure to like the playlist to keep up with the latest LGBTQ+ releases!